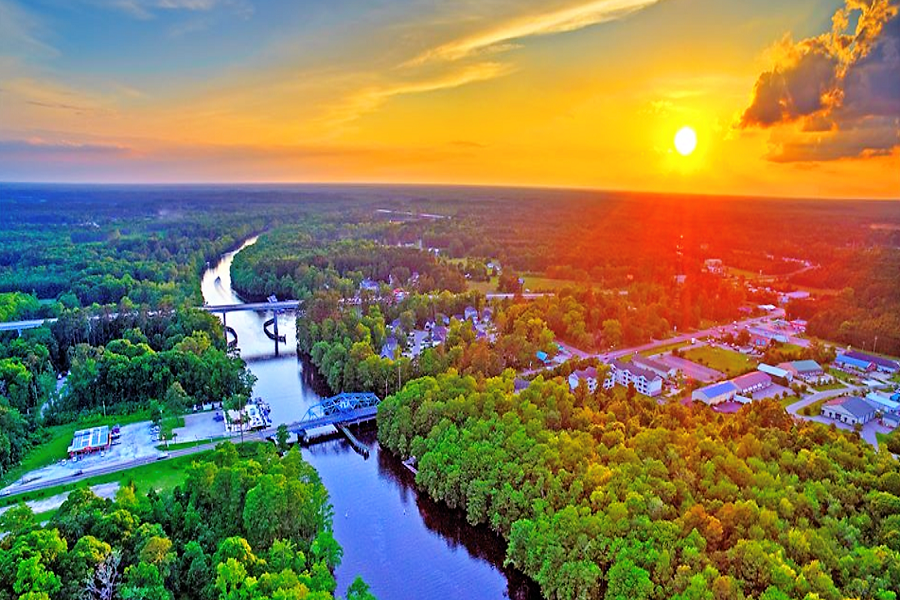 Overview
Socastee is a residential community located inland between Highway 17 and the Waccamaw National Wildlife Refuge. It lies along the Intracoastal Waterway, adjacent to the Market Common, near the junction of Highways 544 and 707. As of the 2010 census, the population of Socastee hovered just below 20,000.
The unincorporated community is comprised of neighborhoods of large, single-family homes, town houses, and multi-family complexes. The area is home to some of the most affordable waterfront real estate along the Grand Strand— featuring homes with private docks along the Intracoastal Waterway.
History
The expansion of Highway 31 to Highway 544 has made Socastee more accessible to other areas along the beach, and has inspired an increase in development of the town. Socastee has its own elementary, middle and high schools which are part of the Horry County school system, as well as parks and recreation facilities and a library. It is an historic town that features a still-functioning swing bridge that crosses the Intracoastal Waterway; the bridge was built in 1935.
The history of Socastee stretches back to the Native Americans who lived in the area and called the land Sawkastee. A small skirmish between American and British troops occurred here during the American Revolution. In later years, the area was a hub for the production and distribution of goods such as turpentine and tar due to it's geographical location as well as the inhabitants' access to acres of pristine pine forests. This area included a saw mill, turpentine distilleries, cotton gin, grist mill, cooper shop and a general store. Socastee was listed in the National Register of Historic Places in 2002.
Every April, crowds gather for the Socastee Heritage Festival; and Island Adventure Watersports offers jet skiing and boating adventures along the Intracoastal Waterway
The map ID you have entered does not exist. Please enter a map ID that exists.
Ready to take the next step?
My name is Jennifer Hamilton, Director of General Real Estate Sales for Berkshire Hathaway HomeServices Coastal Real Estate. Originally from the Washington, D.C. area, I moved to the area almost 14 years ago and am delighted to call the Grand Strand my home.
I believe that understanding the real estate market where you live, or desire to live, is key when it comes to selling or buying a home.
If you have a preferred agent to work with, contact me, and I will forward your information to them. If not, I will happily introduce you to one of our qualified agents to assist you in the buying/selling process.
So let's set up a meeting today.
Please fill out the form and you will receive an email from us. If you do not get the email in the next 5 minutes, check your spam/junk folder.